This sandbar was extremely productive - a Snowy Egret fishing in the foreground, American White Pelicans in the background, and a small flock of American Avocets in winter plumage on the back side of the sandbar. Sanderlings, Marbled Godwits, Willets and other unidentified shorebirds were foraging on the mud flat and many Laughing Gulls were adding to the confusion.

My very first Reddish Egret was spotted on the far side of the sandbar, hiding in a small group of Black-necked Stilts. The fishermen lining the pier seemed to regard me with some suspicion - many of them were out in the shallow water in hip-waders, and didn't take kindly to a high-powered scope seemingly focused on them. Luckily, they were more interested in fishing than in the birds that were also lunching on the smorgasbord offered by the shallow waters.

I could have spent another hour here, but time was limited, so I pressed on to Bolivar Flats Shorebird Sanctuary.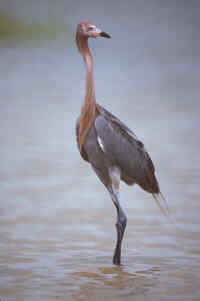 Reddish Egret
Photo copyright Don DesJardin