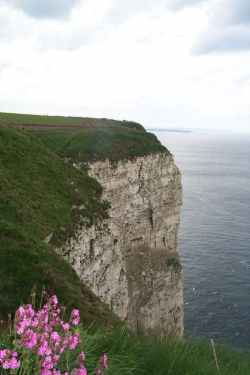 Bempton Cliffs RSPB reserve has the largest concentration of breeding seabirds on the English mainland. Just 4 miles north of Flamborough Head, on the same headland, the eroded chalk cliffs rise up to 430 feet out of the North Sea.
...
Arriving at the parking lot and visitor's centre, the view is totally uninspiring, as the title photo shows. Just a meadow and sky, and very flat at that! Only the faint cries of multitudes of birds hint that something special is going on here. It's when you approach the "edge" that you realize what a remarkable place this is. The cliff path meanders along the edge of the drop - this is no place for those who suffer from vertigo. But, take heart, the viewing areas are firmly fenced!
for a map showing the distribution of viewing platforms.
...
While the variety of birds at Bempton is limited (with primarily 6 breeding species), the sheer number (and sound and smell) of them is overwhelming.