Dominica Specialities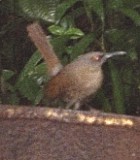 Photo copyright Tina MacDonald
....The Caribbeanís Best Kept Secret - by Martin Birch. Little more

than a speck on the atlas and almost always confused with its larger cousin The Dominican Republic, The Commonwealth of Dominica is the Caribbeanís best kept secret. The island, enveloped in richly preserved rainforest, is the undisputed emerald in a necklace of island gems that stretch from Puerto Rico to the mainland of South America.

....Flora and Fauna of Dominica - Dominica is home to two parrots

found nowhere else, the Imperial (Amazona imperialis) and the Jaco/Jacquot parrot (Amazona arausiaca). The area of Syndicate in the Dominica's Northern Forest Reserve is perhaps the best known spot to see these two spectacular birds.

....Dominica - Fauna & Flora
....Morne Trois Pitons National Park - This 65-square-kilometer

(25-square-mile) slice of nature is a primordial rain forest complete with famous Trafalgar Falls, reached by an easy 15-minute hike. See also this article on the establishment of the Park.

....Cabrits National Park - Located on the northwestern coast of

Dominica - contact information.

....Trip Report: Dominica - 15 - 29 August 1990, by Ian Broadbent. This

report is based on my notes from a trip to Dominica in 1990, so some of the information (and taxonomy!) may well be out of date by now (July 2002), but I hope that it serves as a taster of what can be expected.

....Scenes from a Lesser Antilles Trip - 18-28 March 2000. A photo

montage by Don Roberson. These shots are from a fine "Focus on Nature" tour of the Lesser Antillean islands of St. Lucia, St. Vincent, and Dominica (a trip led by Armas Hill), with a final day on Puerto Rico (a trip led by B. J. Rose and with a different set of participants). In the islands of the Lesser Antilles, we were successful in locating all island and regional endemics within a week.

....Trip Report: Lesser Antilles - St. Lucia, Dominica and St. Vincent,

5 - 14 December 2000. By Barry Cooper and Gail Mackiernan. For birders who wish to see all the Caribbean endemics and specialties, a trip to the Lesser Antilles is a must. Some of the regionís most spectacular birds are found on these small islands, as well as some of the most undisturbed habitat.

....Trip Report: Lesser Antilles - 3-13 November 1999. By Frank Frazier.

Thought it might be of interest to give a brief report of the highlights of a trip I took with my N.J. friend Bill Weiss, to some principal islands of the Lesser Antilles in hopes of seeing their endemics and specialties - we visited Guadeloupe, Dominica, Martinique, St. Lucia, and St. Vincent, ending up with one night and morning in Puerto Rico.

....Dominica Trip Reports - a number of Dominica trip reports are

available from Blake Maybank's "Birding the Americas: Trip Report and Trip Planning Repository".