Belize Specialities
(Pause your cursor on the photo to see the species name.)
Photo copyright Kevin C. Loughlin/Adventure Camera, Inc.
Photo copyright Martin Reid
Photo copyright Kevin C. Loughlin/Adventure Camera, Inc.
Photo copyright Kevin C. Loughlin/Adventure Camera, Inc.
Photo copyright Arthur Grosset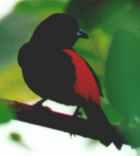 Photo copyright Jean Coronel
....
....Protected Areas Managed By The Belize Audubon Society -

includes additional information on:

Half Moon Caye Natural Monument
Shipstern Nature Reserve
Crooked Tree Wildlife Sanctuary
Guanacaste National Park
Blue Hole National Park
Tapir Mountain Nature Reserve
Cockscomb Basin Wildlife Sanctuary

....
....Another site on Shipstern Nature Reserve - managed by

the Belize Audobon Society

....
....Birding in Belize - this commercial site provides information on

birding sites, as well as a brief checklist, and fgeneral information about birding in Belize.

....
....Crooked Tree Wildlife Sanctuary - Located 33 miles northwest of

Belize City and just 2 miles off the Northern Highway, Crooked Tree Wildlife Sanctuary provides an opportunity to view some of Belize's magnificent waterbird populations. See also the Birds of Ambergris Caye by Elbert Greeg.

....
....Slate Creek Preserve is functioning as an important buffer for the

adjacent Mountain Pine Ridge Forest Reserve and forms a wildlife corridor between the Mountain Pine Ridge Forest to the north and the Tapir Mountain Nature Reserve to the northeast.

....
....Guanacaste National Park - a fifty acre parcel of tropical forest

located on the northside of the Western Highway just to the east of the Roaring Creek Bridge, administered by the Belize Audubon Society.

....
....Five Blues Lake National Park - Two hundred seventeen species of

birds have been identified in the park and all five of Belize's wildcats make their home within the park's boundaries.

....
....Cockscomb Basin Wildlife Sanctuary - The lush jungle of the basin

is a birder's paradise, with over 300 species recorded. Some of the more interesting species include the scarlet macaw, great curassow, keel-billed toucan and king vulture.

....
....Half Moon Caye Natural Monument - The western half of the caye

is densely vegetated. The soils are made rich and fertile by guano from thousands of sea birds nesting in the area.

....
....Birds of Belize...The Halfmoon Rookery - the island has been

protected since 1928. The rookeries can be reached by boat from San Pedro by hopping aboard one of the dive boats heading for the "Blue Hole".

....
....Birding in the CAYO District of Belize - Bird watching is great in

Cayo! More than 600 bird species live year-round or visit Belize as part of their migratory pattern. Birds from the north visit Belize during the winter months, while the summer months are great for spotting visitors from South America.

....
....Trip Report: Central America (A birding travel report on: Mexico,

Guatemala and Belize) - 16 March - 12 April 1991, by Michiel de Boer. This is a report of a birding holiday of four weeks in Mexico, Guatemala and Belize. We didn't book anything in advance (except for the flight) didn't rent a car and still visited all the good spots we wanted to visit. It was a great pleasure and a terrific experience, we would recommend to any birdwatcher or nature-lover. The planning of this trip relied on sources like travel-reports. By writing this report I hope I can contribute to the planning of trips of other people.

....
....Nine Days in Belize - Trip Report by Steven Mumford, 1995.

"Depart Miami at 4:26pm, arrive in Belize City at 4:13pm. A negative 13 minute airplane ride! What a way to fly!" An excellent trip report detailing both birds spotted and locations.

....
....Trip report for Belize - November 10-20, 1996 by Roy and Jill Jones.

Belize is a nice country to get an introduction to birding in Central America as they speak English and there is some good habitat for birds. The people were nice everywhere we went.

....
....Trip Report-Northern Belize - January 10-18, 1997. By Kevin

Loughlin. This was my first birding tour of 1997, and a very successful endeavor with 200 species in seven full days of birding (plus the time to/from the airport. I even included a few lifers of my own though I have been leading tours to Belize since 1993. In fact, one of the Belizean guides I use got a couple of lifers, and he has been birding Belize all his life! See also Kevin's trip report from the March 27 Tour.

....
....Trip Report: Belize, November 2000 - by Mary Beth Stowe.

Thought I'd do an overview of the trip this time rather than a blow-by-blow recount ( if you'd LIKE that, then e-mail me and I'll send you a copy of the journal ! ), thinking this format might be more useful to prospective visitors to Belize.

....
....Trip Report: Birding and Duding in Yucutan and Belize, July 26 to

August 31, 2003. By Tim Allwood and Claire Stephenson. There's no feeling like that of the roar and pull of the engines of a jet as you travel down the runway, and this year our destination was the endemism hotspot of the Yucutan peninsula in Mexico, and Belize. After last year's epic expedition into darkest Peru we fancied a slightly more sedate trip with the chance to relax, swim, meet a few people and generally doss about with a beer or two. This area has many endemic species and subspecies (a fair few probable splits in the pipeline) along with many more species endemic to the wider area of Central America.

....
....Belize Trip Reports - Blake Maybank's great trip report archive

holds many more trip reports on various parts of Belize.