Guyane Specialities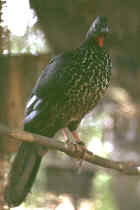 Photo copyright Jan Hein Ribot
Photo copyright Neotropical Journeys
Photo copyright Tim Carney
....
....Destination French Guiana - this is the only site

on the web that can be found that has any reference to birding in French Guiana. Check the "Off the Beaten Track" section.

....Recommended areas for birding include:

Cayenne - Situated on an island on the north coast, the small capital of Guyane is a good base from which to explore a few interesting birding sites. Check out the seawall, the old port and the airport road. The secondary forest and savannah around Montsinery and Tonnegrande are worth a look, as are the reservoir area near Le Rorota and Mount Mahury.

Ile du Grande Connetable - this small island, 40 km. from Cayenne, supports a good breeding seabird colony (May to August). This island, Guyane's only nature reserve, is a restricted area for tourists, although some tour operators may be persuaded to visit by persistent birders.

Sinnamary - This small town, some 100 km. west of Cayenne, is surrounded by savannah and lies near a large estuary which is an internationally important shorebird site.

Saint Elie - The road to St. Elie south of Sinnamary is lined with superb forest, where Sooty Barbthroat, Spotted Antpitta, and a number of rare cotingas, including the incredible Crimson Fruitcrow, occur.

Nourages - this remote inland site, some 100 km. south of Cayenne, is one of the best birding sites in Guyane.

Saul - this remote gold-mining settlement, virtually in the middle of Guyane and accessible by air from Cayenne, is the gateway to some excellent forest. Although a number of species are uncommon owing to hunting, this is another site in Guyane full of cotingas.


Factoids and birding site recommendations are from Where to Watch Birds in South America - by Nigel Wheatley.