Greek Specialities
Photo copyright David Lingard
Photo copyright Sujan Chatterjee
Photo copyright David Lingard
Photo Copyright Erik Toorman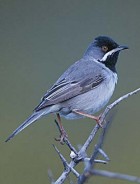 Photo copyright George McCarthy
Photo copyright David Lingard
Photo copyright Erik Kleyheeg
Photo copyright Vaughan Ashby

Photo copyright Ronald Saldino

Photo copyright Jan Kåre Ness
Photo copyright David Lingard

....Important Bird Areas in Greece - this clickable map, presented

by the Helenic Ornithological Society, has information on all 196 Important Bird Areas in Greece(these are not really birding hot spots since bird species at most of them are vulnerable and birders
should exert great caution in order not to disturb the birds).

....Winter Birding in the Evros Delta - In north-eastern Greece, on the

border with Turkey, the Evros Delta is a vast tract of unspoilt wilderness, extending over more than 150 square kilometres, just waiting to be explored.

....Aegean Birds - Greek Department of the Environment - More than

300 bird species have been recorded in the Aegean, distinguished in two main categories; those resident here permanently, or for long periods, and the passage migrants.

....Vikos Gorge National Park - Where the gorge sides are less

precipitous, and in the countryside nearby, there are forests of beech, fir, bosnian pine and black pine. The cliffs are the breeding haunts of griffon vultures, golden and Bonelli's eagles and peregrine falcons.

....Kerkini Lake - It is a miracle of nature which came about by man's

technical intervention on the natural characteristics of Strymon river. This wonderful biosphere is recouped by the Internetional Convention of Ramsar and presents numerous admirable elements. Thousands of birds, both rare and protege, riverside forests, water-lilies in a large area, fish variety and fantastic panoramic view from the mountains of Beles and Krousia give it a characteristic tone. Actually the lake hosts 227 kinds of birds, especially non-migrants.

....Prespa Park - the Prespa Lakes and their surrounding catchment are

unique for their geomorphology, their ecological wealth, and their biodiversity, which gives the area significant international importance. The Prespa Lakes and their surroundings provide habitat for the conservation of various and rare species of flora and fauna and offer refuge for the migratory bird populations. They constitute as well a much needed nesting place for many species of birds threatened with extinction. See also the Society for the Protection of Prespa.

....Rhodes Birding - by Martin R. Adlam. - Situated in Mediterranean,

this picturesque island has to be one of the cleanest and certainly the friendliest of all the Greek islands. Granted there is a long featureless beach running down the west coast, but this pales into insignificance when you find yourself on the east coast, with its rocky headlands and sheltered sandy bays. Not only is this island noted for its many features such as the outcrop used in the filming of "Guns of Navarone", but it is also an excellent stopover for migratory birds heading north into neighbouring Turkey.

....Lesvos, Jewel of the Aegean - When describing Lesvos, words like

'magical island', 'migration hotspot'. and 'jewel of the Aegean' tend to trip off the tongue with monotonous regularity. On top of all these acolades I would just add the words 'a wildlife photographer's dream'.

....Wildlife, Birding in Lesbos - The information on this site is taken

from the book "Birding in Lesbos" by Mr Richard Brooks. The basic geography of Lesbos, together with its size and location so close to the Turkish coast, mark it out as an area of varied habitats, with some good wetlands, likely to prove extremely attractive to spring and autumn migrants; wet enough to keep a fair variety of wintering wildfowl, waders etc.; yet also playing host to a good mix of breeding birds - some of them, like Cinereous Bunting and Kruper's Nuthatch, quite outstanding.

....Wildlife and Wild Birds - Lesvos is known to the birding world as

one of the best locations in Europe to see migrating birds. The island's vast and varied landscape offers numerous species of birds exactly what they want and thus it is a haven not only for birds but for birdwatchers too who arrive in droves in the spring.

....Birdwatching in Lesvos - Undeniably Lesvos is a very special place

for birds and an extremely rewarding location for watching them, often at very close range. So far 325 species have been recorded, right across the island. There are several reasons why this is the case, but the wonderful variety of habitats and the island's location on an important migration route just below the Turkish coast are two of the most important. See also the birding reports for 1999, 2000, and 2001 (available only to Internet Explorer users).

....Greece - the Island of Lesvos at leisure - this commercial itinerary

from Ornitholidays provides a lot of information about where to find birds in Lesvos.

....Latest News from Abroad - this commercial site provides up-dated

details about birdwatching sites abroad. All of these sites are described fully, with detailed maps, in a series of books entitled `Finding Birds in...' (sometimes referred to as Gostours guides). These notes are intended to supplement the books to provide the most complete and up-to-date service possible. Notes are available on the Greek Islands.

....Trip Report - Kos, Greece - April 10 to April 23, 1998 - by Jan Kuper.

On this website, you will find information on observations of birds and invertebrates during a holiday trip to Kos, Greece, in April 1998. Descriptions of some interesting spots are given. This is followed by (systematic) lists of observed birds, diurnal butterflies and dragonflies with English, Dutch and scientific species names. For some animals, you can see pictures.

....Trip Report: Northern Greece - June 2 - 16, 1998. By Rob Goldbach.

The timing was rather optimal, as prior to our visit the weather was rather unstable, with heavy rainfall until the end of May, and only turned dry and sunny one week before our visit. Hence, the landscape was green, with many plants flowering. We had sunny days, with temperatures between 25 and 30 degrees Celsius, and only some local thunderstorms at the Evros delta.

....Birds at Ouranoupolis, Greece - seen between the 6th and 13th of

July, 1998. The list of birds is NOT from a birding trip. It's only the birds I couldn't avoid seeing at my holiday, while we stayed at a camping place in Ouranoupolis near Thessaloniki in Greece.

....Trip Report: Greece, July 1-23, 1994 - George and Myra Dremeaux

Our summer vacation this year took us to Greece. A few days would be devoted to birding and the rest to other pursuits such as visiting archaeological sites, snorkeling, hiking etc. Only four days really qualified as birding days.

....Trip Reports from Greece - these reports are hosted by John Girdley

(follow the link to Greece)

....Trip Report: Greece, May 12-19, 1997 - Gebbe Björkman,

Ateljé Gebbe. In my notebook I have a report from a trip to the area of Island Lefkas - Pindos Mountains in the north-west of Greece.

....Trip Report: Greece, June 2-16, 1998 - Rob and Evelien Goldbach

The timing was rather optimal, as prior to our visit the weather was rather unstable, with heavy rainfall until the end of May, and only turned dry and sunny one week before our visit. Hence, the landscape was green, with many plants flowering.

....Trip Report - Greece - Chris Walsh - Here is a brief trip report of my

sojourn in Porto Heli on the Greek mainland near Spetse, between 26th September and 10th October 1995. There was a fair bit of rain around with one very wet day. This week was the most fruitful regarding numbers of birds

....Trip Report: Crete - May - June 2000. Report of a combined birding/

business trip by Rob Goldbach. only during the migration time this island might be very productive. Outside the migration times, however, one has to be satisfied with the relatively low number of resident species. This low diversity in avifauna is mainly caused by the fact that Crete basically is a dry mountain chain situated in the middle of the Mediterranean. The lack of major rivers or marshes (the few and small wedlands moreover being mostly dried out by the end of May) and the overgrazed dry slopes of the many hills and mountains makes that it is hard to reach 100+ bird species outside the migration periods. The special birds of Crete, which make a visit always rewarding, include Griffon Vulture (still rather common), Bearded Vulture, Eleonora's Falcon, Blue Rock Thrush, Chough, Booted and Bonelli's Eagle, while both Yelkouan and Cory's Shearwater are frequently seen off shore.

....Lesbos Trip Report - by Alastair Rae - 18th - 25th May 1995

"Lesbos is a one of the larger Greek islands, tucked away in the north-eastern corner of the Aegean, close to Turkey," to quote Marjorie Williams' "Birdwatching in Lesbos" booklet. Other information we had in advance of our visit was the "Lesbos Compilation" of trip reports from Steve Whitehouse. We also had help on the island from some of the other birders. We kept bumping into Richard Brooks who was on the island for a month researching a book on birding in Lesvos. I suspect that this is an up-and-coming destination.

....Trip Report - Lesvos Birding - by Paul Wetton. This trip report

describes our visit to the Greek island of Lesvos (Lesbos) in the first two weeks of September 2000. There were a few sites I wanted to visit, including the Potamia Valley, Kalloni II Pool which was 10 minutes walk from our apartment, the area known as Derbyshire, Kalloni Salt Pans and Polichnitos Salt Pans. A few days were also spent birdwatching from the car in the Western Uplands, along the North Coast and in the Central Uplands including Agiasos. This site contains a great map of the various birding locations. See also Paul's report on their 2003 Lesvos Trip.

....Trip Report Greece: 2001 April 29th to May 7th, by J. P. Paris.

We made a small visit in this country and we crossed all the North-East part. The Kerkinis lake is really a wonderfull place but there's only one good hotel. If you go in this area, spent at least 2 days here! A big part of the Evros delta can be visit only with a guid and the army and only 2 hours. However, a big part can be visit without problem if you take some tracks around Monastiraki. There's probably less birds, but there's always a lot of thing to see.

....Trip Report - Lesvos - May 2 - 17, 2001 - by Jim Willson. The island

of Lesvos is one of the largest of the east Greek Islands and only about 6 miles from the Turkish Coast. This was our first visit to a Greek island and we were impressed by the 'greenery' compared to the Balearics or Cyprus.

....Trip Report: Lesbos - 6th May 1999 - 13th May 1999 - by Andy

Senior. A group of four birders, Guy Bottomley, Roy Bottomley, Paul Robinson and myself, visited Lesbos in early May 1999 for a week of fairly intensive birding. We had birded together in Andalucia in 1994 as well as in the UK, but Lesbos was a new experience for most of us. Roy had visited Lesbos previously, but in September as a family holiday. He therefore had some experience with the species we would encounter. This trip report contains numerous "micromaps" of specific locations.

....Trip Report - Lesvos - May 6 - 13, 1999. This pdf format trip report ....Trip Report - Rhodes 4-17 May 2000 - by Brian Stone. This report

contains a list of bird species seen during a two week family holiday to Rhodes. Birding time was extremely limited and a couple of sites mentioned in other reports were not visited.

....Trip Report: Lesvos, Greece - 26th April to 2nd May 2002, by

Peter Alfrey and Lee Dingain. This was our first trip to Lesvos and we were very impressed with the quality of the birding. The speciality birds were easy to see and there were good numbers of passage migrants moving through all week, with a noticable fall occurring on the 1st. In particular we found the Eressos to Sigri road and the Faneromeni Valley especially good for migrant passerines and the Kalloni Salt Pans were also very productive.

....Trip Report: Lesvos - 19th – 27th April 2002. By Steve Bird and

Viv Stratton. 169 Species seen ( 1 week ). A Birdseekers Tour Report.

....Trip Report: Greece (Athens and Corfu) and Northern Germany -

April 29 - May 23, 2003, by Urs Geiser. This trip had two main purposes, neither of them birding: the Greece segment was to attend a professional conference in Dassia on the island of Corfu, and the vacation trip through the northern half of Germany was to visit the ancestral villages of my wife's family. Nevertheless, I managed to fit in quite a bit of birding, especially during the second part of the trip.

....Trip Report: Greece: Gialova Lagoon, near Pylos, Greece, by

Andrea Bonetti. Gialova lagoon, overlooked by Thanos village, is a real bird paradise: more than 270 species of birds have been counted there by the Hellenic Ornithological Society – the Greek partner of Birdlife International. Thousands of birds flying to Africa in autumn stop at the lagoon to rest and "refuel" for the last time before the long journey of 3000 km over the Mediterranean Sea and the Sahara desert. In spring they find there the southern-most European wetland to rest and feed again. Furthermore, many species over winter at the lagoon.