Niger Specialities
Photo copyright Birdlife On-Line Magazine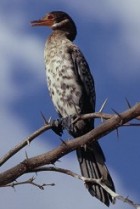 Photo copyright Eric Van Poppel

....Aïr and Ténéré Natural Reserves - The resident

avifauna (165 species) of the region consists of Saharan, Saharo-Sahelian and Saharo-Montane residents. The reserve is visited by some 85 species of Palaearctic passage and overwintering migrants, particularly herons, birds of prey, waders, thrushes and warblers. During the wet season there is an influx of various Afro-tropical local migrants from the south.

...
....W'W' National Park - Approximately 350 bird species

are found. Migratory aquatic birds are common between February and May.

...
....Niger - Directory of Wetlands of International Importance - includes

information on all Niger's Ramsar designated sites, including:


Factoids taken from Where to Watch Birds in Africa - by Nigel Wheatley.