Aruba Specialities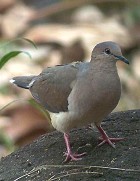 Photo copyright Richard Garrigues
...
....Aruba - Fauna & Flora
...
....Aruba - Directory of Wetlands of International Importance -

includes information on Aruba's Ramsar designated site, including:

...
....Trip Report - Aruba: By Tony White. While most days were spent

listening to papers in a conference room, I did get in some interesting birding. Aruba is a fascinating island.

...
....Aruba Trip Reports - a number of Aruba trip reports are available

from Blake Maybank's "Birding the Americas: Trip Report and Trip Planning Repository".


"Try birding the remnants of the thorny woodlands in the southeastern hills. Good birds include Ruby-Topaz Hummingbirds (found in relatively well-vegetated dry riverbeds) and the Caribbean Elaenia. There is an important tern colony on the off-shore islands near San Nicholas, Aruba. The fish ponds behind the tourist complex at Bubali attract herons, shorebirds and terns." - from Where to Watch Birds in South America - by Nigel Wheatley.