Trinidad and Tobago Specialities
Photo copyright Pat Goltz

...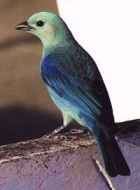 Photo copyright Gaby Schulemann

...

Photo copyright David Tripp

...

Photo copyright Arthur Grosset

...

Photo copyright Cagan Sekercioglu

...

Photo copyright Gaby Schulemann

...

Photo copyright Alex Earnshaw

...

Photo copyright Arthur Grosset

...

Photo copyright Larry Master

...

Photo copyright Steve Metz

...

Photo copyright James Ownby

...

Photo copyright David Tripp

....Asa Wright Nature Centre - Located at 1200 feet in the mountains of

the Northern Range of Trinidad, seven miles north of the Town of Arima, the Asa Wright Nature Centre is a world-class natural history destination for students of tropical ecosystems and is of particular interest to birdwatchers. Also check out Tim Carney's Checklist of the Birds of the Asa Wright Centre.

....
....Trinidad and Tobago Birding Sites - from the Fatbirder.
....
....Nature Reserves in Trinidad and Tobago - this site identifies all nature

reserves, and the birds they contain, in the two islands, including:

....

Trinidad

El Tucuche Reserve, Maracas
Asa Wright Nature Centre and Lodge, Arima
Valencia Wildlife Sanctuary, Valencia
Caroni Bird Sanctuary, Caroni
Bush Bush Wildlife Reserve, Nariva Swamp
Wild Fowl Trust, Pointe-a-Pierre

...
Tobago

Little Tobago or Bird of Paradise, Northeast Tobago
St. Giles Island, Northeast Tobago

....
....The National Birds of Trinidad and Tobago - The Scarlet Ibis

(Eudocimus ruber), locally known as "flamingo," makes its home in the Caroni Bird Sanctuary in the Caroni Swamp--an area set aside by the government for the protection of these colourful birds. The Caroni Swamp includes fifteen thousand acres of marshland, tidal lagoons, and mangrove trees.

....
....Pointe-à-Pierre Wild Fowl Trust - The Pointe-à-Pierre Wild Fowl Trust

is a refuge for the island's endangered species.

....
....Birding with Bill Oddie - information from a birding tour to Trinidad
....
....Trinidad & Tobago - Fauna & Flora
....
....Caroni Bird Sanctuary - Located near Port-of-Spain, Trinidad, this

sanctuary comprises more than 100 square kilometers (40 square miles) of mangrove swampland crossed by waterways.

....
....Birds of Trinidad & Tobago - by Dr. Russell Barrow
....
....Oceanpoint's Tobago: A Birding Excerpt
....
....Trinidad - Directory of Wetlands of International Importance -

includes information on Trinidad's Ramsar designated site:

....
....Eco-Vacations in Trinidad and Tobago - Where in creation could

compare? 2300 species of flowering plants; over 600 different butterflies; over 400 species of birds. South America? No, just Trinidad & Tobago. Long the secret of wildlife film makers – (David Attenbourough has shot many sequences here) – T&T is a veritable ark flora and fauna, awaiting exploration…..

....
....Bird Trinidad! -- Trinidad and Tobago Birding Tools - This isn't about

birding hotspots, but I thought it might come in useful (says Tina)!

....
....Birdtrip Report - Trinidad. March 21 to April 20 - by Harry J Lehto.

My trip to Trinidad was a business trip and not really a birding trip. However, I managed to do some birding on weekends, and even on weekdays by getting up early enough to bird a couple of hours before work, and again for an hour in the evening after work. I managed to see well over 200 different species. For alist of species, and locations where the birds were seen, see also Part II.

....
....Trinidad & Tobago - November 26 - December 6, 1998. By Bill Murphy ....
....The Birds of Isla Marguerita and Tobago - check under the

"Caribbean Index" on John Girdley's site for this great trip report by Charles and Joy Fletcher.

....
....Trip Report: Lesser Antilles and Orinoco Jungle River Cruise -

January 5-13, 1996 - by Bill Murphy. In 1995 the American Birding Association contacted me to offer me an opportunity to serve as their representative on a Clipper Cruise Line voyage through the southern Caribbean in January 1996. The tour itinerary included the Netherlands Antilles islands of Curacao and Bonaire, coastal Venezuela, Tobago, the Orinoco River, and Trinidad -- 1200 sea miles in all. See also Bill's report on the Trinidad extension to this cruise.

....
....Trinidad and Tobago Trip Report - March 18-27, 2000 - by Mike

and Cindy Fahay. This was our third birding trip to T&T. Trinidad and Tobago are both wonderful places to spend time, birding and otherwise. My wife and I prefer to go on these trips unguided, do the necessary research, and find birds on our own. Probably because of this habit, we always seem to leave a few species behind, and the omission of those species on our trip lists provides a great excuse for returning to our favorite birding places.

....
....Trip Report: Trinidad and Tobago 2000 and Trinidad and Tobago 2001.

These .pdf format trip reports are made available by Birdfinding Holidays.

....
....Trip Report: Isla Margarita/Tobago, July/Aug 1999, by Charles and

Joy Fletcher. This was a family holiday and not a birding trip. The package was an all inclusive deal through First Choice with accommodation at the Isla Bonita Hotel in the north of Margarita, and the Turtle Beach Hotel in Tobago.To get round the problem of two teenage children who were completely uninterested in birds, most birding took place in the early morning before breakfast, and on days out with plenty of "non-birding" activities for all the family.

....
....Trip Report: Trinidad. March 23-30, 1997. By Linda Baker. Asa Wright

Nature Center (AWNC) is a wonderful spot, located in a tropical rain forest on a mountainside. Before breakfast, I had 18 life birds!!

....
....Birding Trinidad and Tobago: February 28-March 8, 1998. By Eva ....
....Trip Report: Trinidad and Tobago, 10/97. By Jean Bicknell. Basically

my family are not interested in birds and I am very keen. On Trinidad I had negotiated 3 nights at Asa Wright before travelling to Tobago and spending the rest of the time at Blue Waters Inn. Click on the "Next by same author" link for parts 2, 3, and 4.

....
....Trip Report - Trinidad and Tobago - by "Fat Birder", January 12 - 27,

1998. I am, by misfortune, disabled. I am also, entirely through greed, overweight. These two factors combine to create a third; I am by misfortune and my own disposition, indolent. This guide is, then, for those of you who are restricted by disability, or lazy by inclination. This is an essential characteristic of all reports from the "Fat Birder". (Don't let this author's prologue fool you - this is a very comprehensive and entertaining trip report).

....
....Trip Report: Trinidad and Tobago, April 22nd - May 5th, 2000 by

Dr Steve M. R. Young. With basic gen on just a few sites in Trinidad and Tobago my wife Penny and I booked a straightforward package holiday with Kuoni via Wildwings to the holiday island of Tobago. However I then planned a 3-4 day excursion of solid birding to Trinidad.

....
....Trip Report: Florida, Trinidad and Tobago Trip, 2004 by Tom Davis.

Ellyn and I just returned from a trip to southern Florida, Trinidad and Tobago. We got some nice photos, displayed in the galleries below, and we had one amazing adventure (well, it's amazing if you're a birder -- we were present at the first sighting of a new bird in Trinidad).

....
....Trinidad and Tobago Trip Reports - seven additional Trinidad and

Tobago trip reports are available from Blake Maybank's "Birding the Americas: Trip Report and Trip Planning Repository".


Factoids taken from Where to Watch Birds in South America - by Nigel Wheatley.