Utah Specialities
(Pause your cursor on the photo to see the species name. Click on the birds for more info... )
Photo by Jim Stasz
Photo copyright Don DesJardin
Photo copyright Patricia Michaels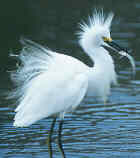 Photo copyright Greg Rothschild
Photo copyright Monte Taylor
....Bear River Migratory Bird Refuge, Utah
....A Thumbnail Guide to the Bear River Migratory Bird Refuge -

by Don Baccus. The Refuge, managed by the US Fish and Wildlife Service, lies on the eastern edge of the Great Basin, just west of Brigham City, Utah. With its fresh water ponds and canals, it is one of the most important resting and staging areas for migrating waterfowl in North America. In spring and summer, it is an extremely productive nesting area for birds like Clark's and western grebes, American avocet, Wilson's phalarope, black-necked stilt, snowy egret, and white-faced ibis.

....Birding locations in Utah - from the Great Lake Audubon Society.
....Birding Site Index - by Utah Birds. This is an index of popular birding

sites in the state of Utah. Most of the information concerns directions on how to get to these sites.

....National Wildlife Refuges Index - Utah. Includes links

to information on:
.... Bear River National Wildlife Refuge - Brigham City, Utah

Fish Springs National Wildlife Refuge - Dugway, Utah
Ouray National Wildlife Refuge - Vernal, Utah

....Ogden Area Birding - by the Wasatch Audubon Society. Utah has

an abundance of State and Federal public lands, a treasure that many states lack. Utah is also a state with great habitat diversity. Close to Ogden, Utah there are birding opportunities ranging from the Great Salt Lake at an elevation of approximately 4,200 feet to Ben Lomond and Willard Peak that approach 9,800 feet in elevation.

....Birding in Utah - brief articles on breeding

birds and migratory birds around the Great Salt Lake

....The Falcons of Salt Lake City, Utah - article documents the history

and location of peregrine falcon nesting in Salt Lake City and environs.

....Tracy Aviary - Tracy Aviary's mission is to educate the public

about natural history and science in a stimulating, interactive setting. Additionally, Tracy Aviary houses and breeds endangered species of birds and provides a venue for research in conservation biology. The Aviary is located on 7.5 acres of land in the heart of Salt Lake City. Tracy Aviary maintains a collection of approximately 400 birds representing about 135 species. Many of these birds are considered rare or endangered.

....Eagle Watching in Utah - from AmazingOutdoors.com. Every year

thousands of eagles migrate to Utah to wait out the Canadian and Alaskan winters, offering an unparalleled opportunity to see in the flesh one of the world's most majestic birds of prey.

....A Salty Lake near Snowy Mountains - In July and August, Utah offers

many rewards for the traveling birder. The Bear River Migratory Bird Refuge in northern Utah has prodigious numbers of shorebirds. The Great Salt Lake supports up to 500,000 Wilson's Phalaropes; 250,000 American Avocets; and 10,000 Snowy Plovers every year. Shorebird viewing conditions are outstanding on the seven-mile causeway that leads to Antelope Island.

....Great Salt Lake Utah, USA Hemispheric Reserve.

Located in Davis, Box Elder, Tooele, Salt Lake, and Weber counties, Utah

....Fish Springs National Wildlife Refuge
....Watchable Wildlife in Utah - a selcted list of some of the best

spring and summer locations for watching wildlife in Utah.

....The Nature Conservancy of Utah - preserve profiles

including:

Layton Wetlands
Matheson Preserve

....Trip Report: Northern Utah, July 26 - August 3, 1996 by Urs Geiser.

I was able to add a few days of birding to what was essentially a business trip. Of course, it helped that the conference I was attending was held in the scenic ski resort of Snowbird. At 8000 ft, there were plenty of birds (and not the kind I see around here, either) to be seen just walking from building to building.

....Utah Trip Reports - a number of Utah trip reports are available

from Blake Maybank's "Birding the Americas - Trip Report and Trip Planning Repository".