Djibouti Specialities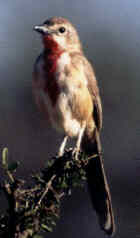 Photo copyright Paul and Helen Harris

....Trip Report: Ethiopia (including Eritrea and Djibouti), March 18 -

April 13, 1998 by Mike Rogerson - The following trip report covers a 4 week period in "Abyssinia" (3 weeks in Ethiopia, 1 week in Eritrea and 24 hours in Djibouti). The trip was done alone, and for reasons of expense (hire car rates, especially 4WD vehicles, being very expensive in Ethiopia), apart from some cheap internal flights inside Ethiopia, public land transport was used throughout with the odd bit of hitch hiking. The trip, although primarily aimed at birding, did include several days heavily biased towards visits of Ethiopia's outstanding historical sites specifically around Gonder and Lalibela which can to some extent be combined with birding.

....
....Trip Report: Ethiopia and Djibouti, 27 November 1999 -

17 January 2000 by Giles Mulholland. The complete trip report with all its appendices would have been much too large in one piece. It is therefore broken into five sections.

...
Factoids taken from Where to Watch Birds in Africa - by Nigel Wheatley.