Birds of Nicaragua
by Jean Coronel
These images are the copyright of Jean Coronel, 1998, 1999, 2000, 2001.
Larger, high resolution versions of these thumbnails are available by request by
e-mailing Jean.

These photos were taken in Nicaragua. Clicking on each photo
will take you to the web page of one of the countries where this bird can be found.
...


Yellow-throated Euphonia

Bare-throated Tiger-Heron

Northern Oriole (male)

Northern Oriole (female)

Common Tody-Flycatcher

Great Kiskadee

Wood Stork

Tropical Kingbird

Olive Tanager

Blue-grey Tanager

White-throated Magpie-Jay

White-throated Magpie-Jay
This is a family of Red-legged Honeycreepers. The male is blue, the female is green and the young are born green and then change if they are males. The third picture is a baby begining to change feathers.

House Wren

Tree Swallow

Golden-fronted Woodpecker

Golden-fronted Woodpecker (detail)

Common Paraque

Common Paraque chicks

Green-backed Sparrow

Clay-coloured Thrush

Yellow-naped Parrot

Rufous-tailed Hummingbird

Roadside Hawk

Greyish Saltator

Anhinga (female)

Broad-winged Hawk

Ringed Kingfisher

Nicaraguan Grackle

Red-winged Blackbird

Great Egret

Crested Caracara

Green-breasted Mango

Barred Antshrike

Orange-fronted Parakeet

Red-lored Parrot

Bananaquit

Black-headed Trogon
Mating Display

Black-headed Trogon

Orange-chinned Parakeet

Orange-chinned Parakeet - Feeding Group

Turkey Vulture

Grey-necked Wood Rail

Brown Pelican

Squirrel Cuckoo

Black-cheeked Woodpecker

Cape May Warbler

Mourning Warbler

Little Blue Heron


Golden-hooded Tanager

Lesser (Thick-billed) Seedfinch

Tri-colored Heron

Yellow Warbler

Nicaraguan Seed-fich

Scarlet-rumped Tanager

Slaty Spinetail

Melodious Blackbird

Yellow Tyranulet

Yellow-tailed Oriole

Cinnamon Hummingbird

Red-billed Pigeon

Lineated Woodpecker

Tropical Peewee

Canebreak Wren

Grey-capped Flycatcher

Yellow-billed Cacque

Slaty-backed Forest-falcon

Hoffman's Woodpecker

Streaked-headed Woodcreeper

Buff-throated Saltator

Golden -olive Woodpecker
...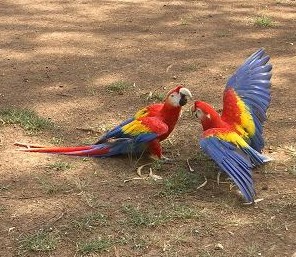 Scarlet Macaws fighting over a piece of fruit
Please send any comments or questions to Jean Coronel.
....